Senators Reach Consensus To Approve Third Basis Revenue Sharing Formula.
On Thursday, September 17, Senators unanimously voted to approve the third basis for sharing revenue among counties after a record 10 failed attempts to reach a consensus. All the 41 senators present in the House on the afternoon session voted to approve the formula.
From the proposed formula, no county loses revenue allocation.
"The motion for approval of the Third Basis Formula for Revenue Allocation among County Governments has be carried. The Ayes 41, Abstention 0, Nays 0," Senate Speaker Kenneth Lusaka announced.
The Moses Wetangula and Johnstone Sakaja chaired 12 member committee that was tasked with a win-win formula had reached a consensus on the formula and briefed the rest of the house before the official sitting.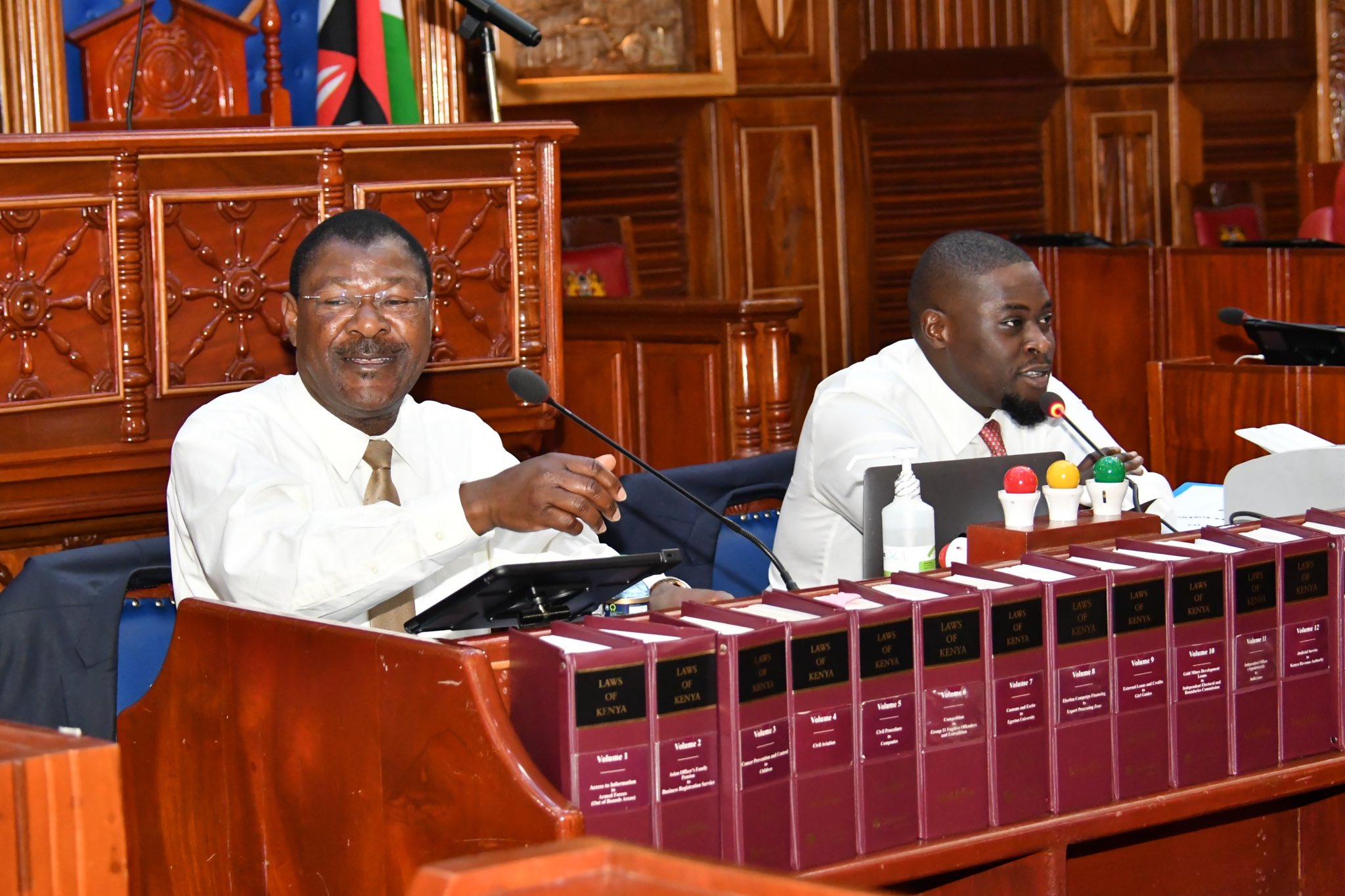 The proposed formula takes into account eight parameters; Basic share (20%), Population (18%), Health (17%), Poverty Level (14%), Agriculture (10%), Roads (8%), Land (8%) and Urban (5%).
In the new formula, Nairobi is the gains the highest amount with Ksh 3.3 billion. This will push it's total allocation to Ksh 19 billion. Nakuru gains Ksh 2.5 billion, Kiambu Ksh 2.2 billion, Turkana Ksh 2 billion and Kakamega Ksh 1.9 billion. Tharaka Nithi is gaining the least amount of Ksh 289 million.
The Council of Governors through its Chairman Wycliffe Oparanya (Kakamega Governor) released a statement making a treat to shutdown operations in the counties stating it had been occasioned by lack of resources after senators failed to agree on the revenue sharing formula.
"Do Not Loan Us!" Kenyans On Twitter react to IMF's 254bn shillings loan
On April 2, 2021, the Executive Board of the International Monetary Fund (IMF) approved 38-month arrangements under the Extended Credit Facility (ECF) and the Extended Fund Facility (EFF) for Kenya in an amount equivalent to 254.41 billion shillings to support the next phase of the authorities' COVID-19 response and address the urgent need to reduce debt vulnerabilities. Approval of the ECF/EFF enables the immediate disbursement of about 307.5 million dollars, usable for budget support. This follows Fund emergency support to Kenya in May 2020, 100 percent of quota, equivalent to 739 million dollars at the time of approval.
The IMF Executive Board has approved a three-year financing package of US$2.34 billion to support Kenya's pandemic response and economic reform program. More here: https://t.co/zsMzCe2szY #IMFAfrica pic.twitter.com/iwa37ncaEK

— IMF (@IMFNews) April 2, 2021
The IMF announcement was met with an online uproar with many online users wondering why the government would take up more loans when they are already feeling the debt burden. A section of politicians also took to the online platforms, questioning the government's decision to request for funds to combat the Covid-19 pandemic while counties had hardly received any monies.
Good Morning Mr. President? Why did Kenya borrow Ksh 214Billion to fight Covid-19 yet only 7billion was sent to 47 County Governments in total?

— Sen. Ledama Olekina (@ledamalekina) March 31, 2021
Kenya's public debt stood at Sh7. 6 trillion as of June 2020, according to the 2021 Budget Policy Statement. The IMF however maintains Kenya's debt is sustainable but it was at high risk of debt distress, and authorities should focus their near-term agenda on urgent structural policy challenges. "The program supported by EFF/ECF arrangements with the Fund provides a strong signal of support and confidence. It is also subject to notable risks, including from uncertainty about the path of the pandemic, and steadfast pursuit of the program objectives will be essential also considering the upcoming political calendar. The Kenyan authorities have demonstrated a strong commitment to fiscal reforms during this unprecedented global shock, and Kenya's medium-term prospects remain positive" Ms. Antoinette Sayeh, Deputy Managing Director and Acting Chair, stated.
Here are some picks from the Trending hashtags since Friday.
Don't say anything just retweet! 😔#stoploaningkenya pic.twitter.com/W7REKEssSQ

— Bullet_🇰🇪 (@ButterBullet_) April 5, 2021
Kibaki left a public debt of ksh630B in 2013.Since Uhuru took over,our current debt is at Ksh11.9T including parastatals debts. In 9years Uhuru has borrowed Ksh9.6T i.e Ksh1.07T per year&Ksh88B per month on average. All that money is in people's pockets #stoploaningkenya pic.twitter.com/WzFycoliqq

— DON ALI (@Kimanzi_Don) April 5, 2021
Surely this is a colossal amount of money…
How was it utilised? #stoploaningkenya pic.twitter.com/UYIj4UpbHj

— Bullet_🇰🇪 (@ButterBullet_) April 5, 2021
Dear IMF,

I believe your organization doesn't endorse corruption but by lending money to the Jubilee administration, you're funding corruption. The President confessed his government steals ksh. 2B daily. Stop funding corruption.

Yours Truly,
Concerned Kenyan#StopLoaningKenya

— BRAVIN YURI (@BravinYuri) April 5, 2021
Dear IMF,

Kenya isn't poor BUT poorly-governed!

Kenya isn't asleep BUT governed by drunken idiots!

Kenya doesn't borrow to invest BUT to fatten her greedy pigs!

Plz,leave the pigsty! Let our pigs feed on what we have!
Loans are burdening our descendants!#stoploaningkenya

— Wa-akili 👨‍⚖️ (@realThuranira) April 5, 2021
One Jefferson Murray has started a petition to the International Monetary Fund Board and is urging Kenyans to join in signing it. Part of the petition reads "Our President, Uhuru Kenyatta, is even on record as saying that Kshs.2 billion is lost daily to corruption in Kenya. The same President recently approved a luxury car grant bribe to junior lawmakers to pass controversial changes to the Constitution, punching another hole to an already strained budget. Some of the President's close allies have been adversely implicated in the so-called "Covid Billionaires" scam, where billions of shillings from international donors was lost in irregular tenders for PPE at the height of the first wave of the Covid -19 pandemic. Nothing ever came out of the President's commissioned probe into the scam. We are therefore calling on the IMF to suspend the disbursement of the loan package it recently approved until proper accountability mechanisms to ensure it will be prudently managed and accounted for are put in place!"
You can find the petition here: http://chng.it/qVr7QsyRVt